Today, we're diving into the wonderful music world and answering the burning question on every aspiring musician's mind: "What size violin do I need?" It's a key decision that can greatly impact your musical journey. But why does size matter so much? Well, imagine trying to reach the higher notes on a large violin that stretches your arm to its limits or struggling to hold a small one that feels like it's disappearing in your hands. It can impact your technique, tone quality, and overall enjoyment of playing.
By choosing the right violin size, you'll have better control, improved playing technique, and a more comfortable overall experience. It's like finding the perfect partner in crime – a violin that's tailored just for you.
So, whether you're in search of a musical instrument that will make your heart sing or seeking guidance for a budding musician, stay tuned, and let's embark on this musical journey of finding the ideal size together!
Violin sizes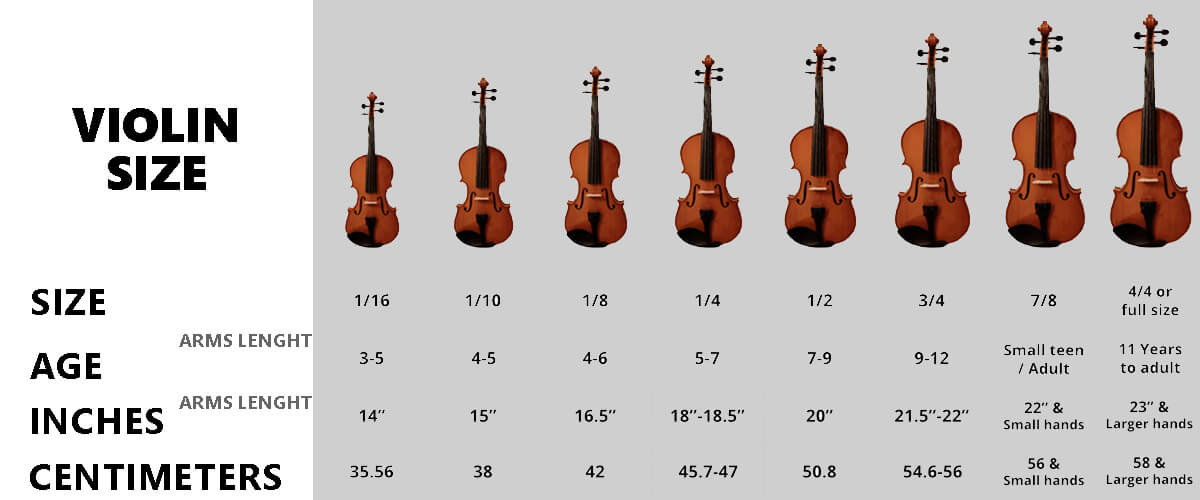 Just like clothes come in different sizes to fit our bodies, violins come in various dimensions to accommodate some arm lengths and age ranges. By choosing the right size violin, you'll ensure a comfortable playing experience and unlock the true potential of your musical skills.
Below, you'll find a handy violin size chart that outlines the key factors:
| Violin size | Fractional measurement | Suitable arm length | Age range |
| --- | --- | --- | --- |
| 4/4 | Full Size | 23.5 inches + | Adult |
| 3/4 | Three-Quarter | 22-23.5 inches | 9-11 years |
| 1/2 | Half | 20-22 inches | 6-10 years |
| 1/4 | Quarter | 18.5-20 inches | 4-7 years |
| 1/8 | Eighth | 17-18.5 inches | 3-5 years |
| 1/10 | Tenth | 16-17 inches | 3-4 years |
| 1/16 | Sixteenth | 15-16 inches | 2-3 years |
| 1/32 | Thirty-Second | 14-15 inches | 1.5-2 years |
Remember, the right violin ensures comfort, proper technique, and optimal sound production. When you or your child can easily hold the instrument and reach the notes effortlessly, the joy of playing music truly comes alive!
Choosing the right size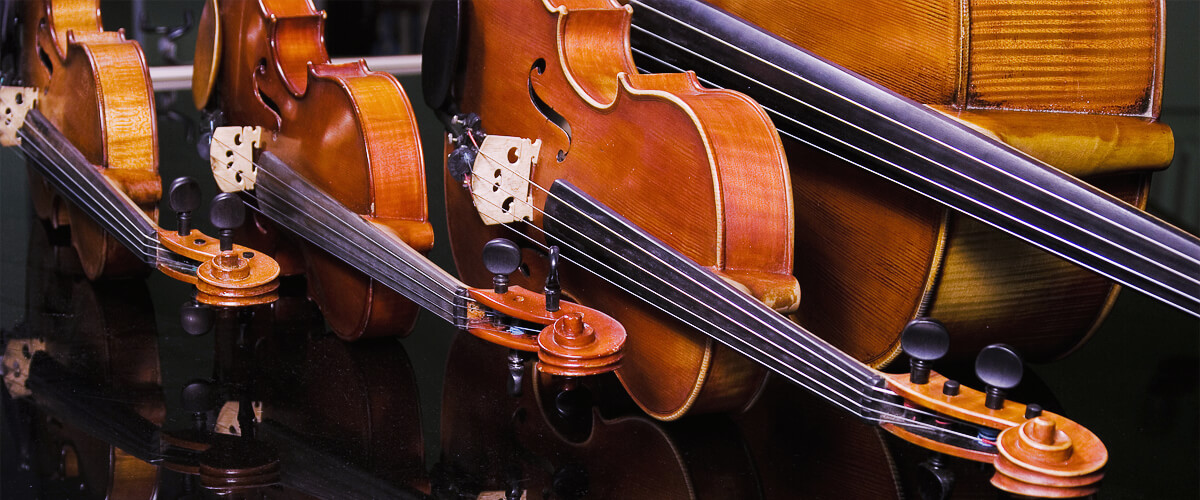 If you are willing to know what size violin to buy, you should understand that this process is really important for optimal playing experience and technique development. While age is often a general guideline, it is important to consider individual size and comfort. Here are some factors to consider in violin measurements:
Arm Length
Stand upright and extend your arm fully to the side to determine your length. Have someone measure the distance from the base of your neck to the middle of your palm. This measurement will help you identify the violin size that is best suited for you. Ensure that the arm is fully extended without any tension or overstretching.
Neck to wrist
First, have the player extend their left arm straight out, palm facing upward. Then, measure the distance from the base of the neck (where the neck meets the shoulder) to the middle of the palm, where the wrist bends. Once you have the arm-length measurement, refer to the violin size chart or consult a knowledgeable violin teacher or music expert. They will guide you in matching the arm length to the appropriate violin size, ensuring a harmonious fit.
Age range
While arm length is the primary consideration, age can serve as a general starting point. For example, different violin sizes are usually associated with specific age ranges because hand length tends to correlate with age. But I should note that people can have varying arm lengths regardless of age.
Considerations for growth
For children and young players who are still growing, it is vital not only to choose the smallest violin size but also to anticipate future growth. Therefore, I advise you to consider selecting a slightly larger size that can accommodate their growth over time. However, it's important to avoid opting for an excessively large violin, as this can impede proper technique and hinder the playing ability.
When in doubt, seek advice from experts such as music teachers or knowledgeable professionals at reputable music stores. They can offer personalized violin size guides and help you find the perfect instrument that aligns with your unique needs and aspirations.